Best places in Vietnam to go on Christmas in 2020 (part 2)
In case you have not noticed, we posted an article to give you a brief overview of Christmas in Vietnam. Check it out here
Generally speaking, Christmas is not an official public holiday in the country. But the celebration is now enjoyed not only by the Christian community across the country, but also seen as an time of fun and coming together for many local people…
Few weeks ahead of Christmas day, offices and shops redecorate themselves with the holiday's spirit, which usually are Christmas trees, candles, bells,… Some shops and restaurants also choose that time to give out offers and special promotions for their customers.
The Christian in Vietnam still celebrate this holiday as its original form. Families gather together, after the Midnight Mass, they get back home and enjoy the Christmas' specialties. Chicken soup and juicy fruit cakes are the local substitute for Turkey and Christmas puddings.
If you are in Vietnam and wondering where to go on Christmas day, check out our suggestions below for a happy holiday.
#1 In Hanoi
In the capital, many people celebrate Christmas holiday. Especially among the younger generation there. The weather is usually cold on Christmas night. So don't forget your jackets and scarf and plan a night tour in Hanoi
St. Joseph's Cathedral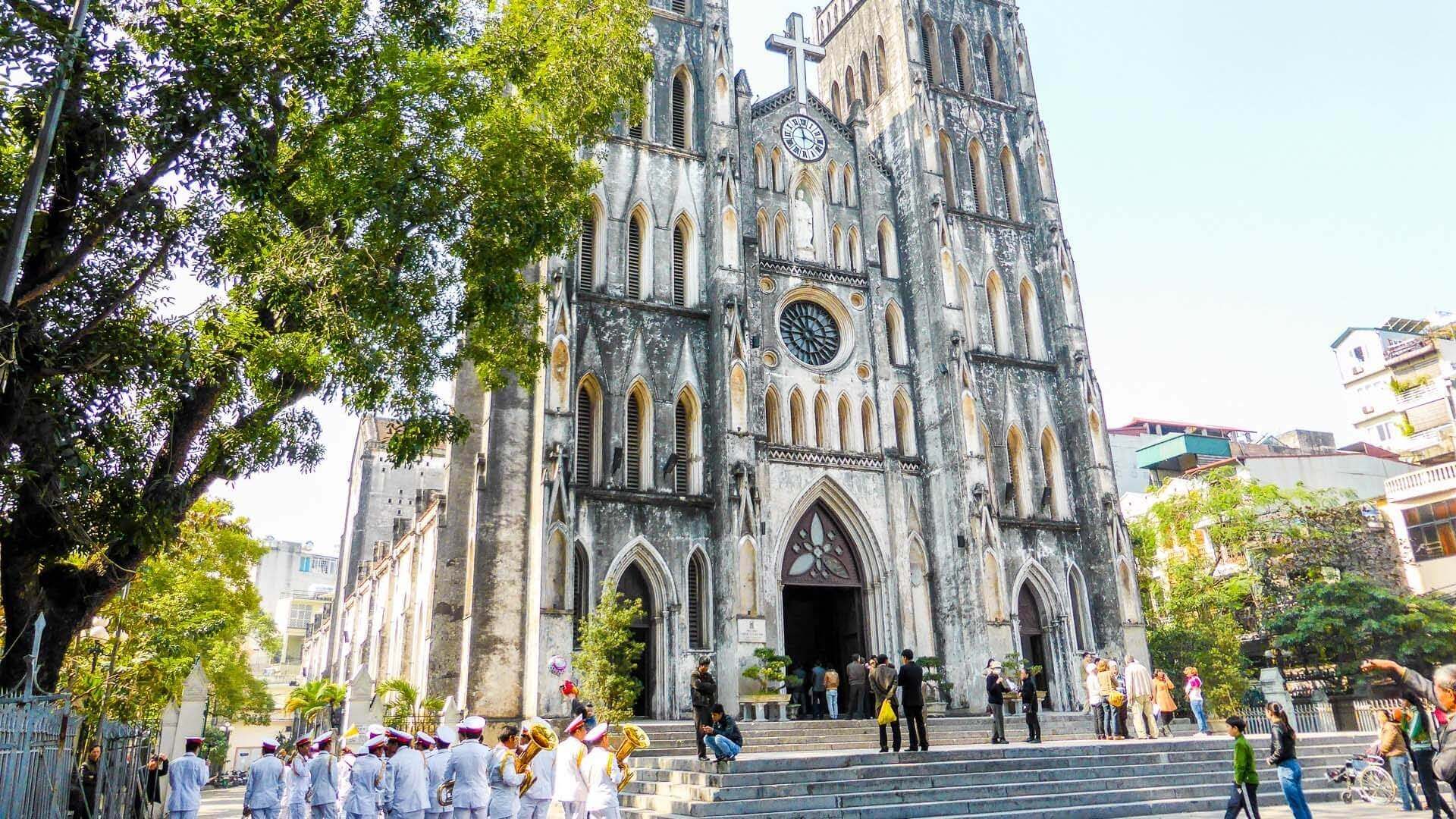 Located in downtown Hanoi, the St. Joseph's Cathedral is one of the oldest colonial buildings in the city. It is very popular for its nearby lively cafes and shops. This beautiful Neo-Gothic church built in 1886 by the French colonial government. resembling the Notre Dame in Paris. The Cathedral remains active thanks to Hanoi's large local Christian community.
Every Christmas Eve, many people, both locals and foreigners gather for musical and spiritual festivities .
Hang Ma street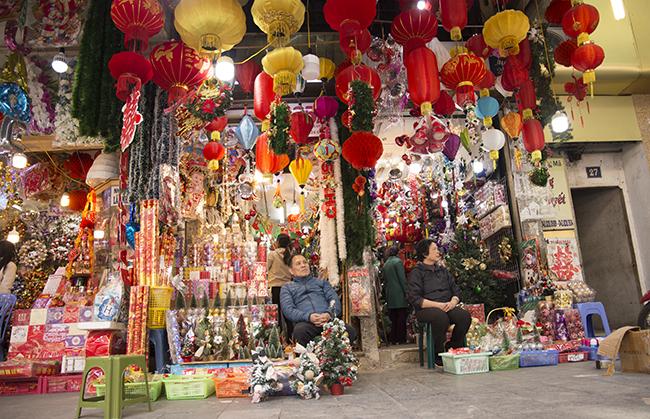 Hang Ma may be the most well-known old quarter in Hanoi. You can find all kinds of decorations the small shops quickly adapt to the Christmas vibes as soon as the winter comes. Hang Ma street usually comes up into people's jokes, because in Vietnamese "Hang ma" means goods for the dead. Sometimes, you may hear someone say he/she is going to buy an iPhone at Hang Ma, which refer to something impossible at the moment. Take a walk on those street, and you instantly will feel the Christmas vibe.
What to do?
Dinner at a fancy restaurant
Every hotels and restaurants usually offer Christmas buffet dinners. Performances accompanying the meal are generally presented.
Join a music festival
There is an annual Music Festival held in the Hanoi Opera House every Christmas eve and on Christmas day
.
Dive into Hanoi's unique culture
Hanoi is one of the only city in Asia with tree-lined boulevards, French architecture, mixed with traditional temples dating back hundreds of years.
#2 In Ho Chi Minh city
In the biggest and most modern city in Vietnam, Christmas is commemorated by nearly everyone living in Sai Gon ( the name of Ho Chi Minh city before 1975, and still can be used today).
The people here are always ready for parties which makes Christmas a great chance to get out to the street and have fun!
Unlike other cities in the country, you can find almost every inch, every corner in the inner city carrying the vibe of Christmas. There is barely cold in Ho Chi Minh city so who knows you may have one of the most unique feelings when celebrating in a summer-like weather.
Here something you can refer when not knowing what to do
Fall in romantic on the river
It is unfair to say only during Christmas that the city carries the scenes of western but the occasion is the one truly brings everything of western in Saigon comes alive. With decorations, crowded streets filled with foreigners and twinkling lights, the roads may get too overwhelmed!
Why don't we go far from the hustle and bustle of the city and get onto the peaceful and lazy Saigon River? The river, even not as clean as it once was, is still an appealing reminder of what the city has come through. Laying on a romantic cruise is going to be an ideal standpoint from which to observe the city in all its fantasy.
Sit above all and watch small things underneath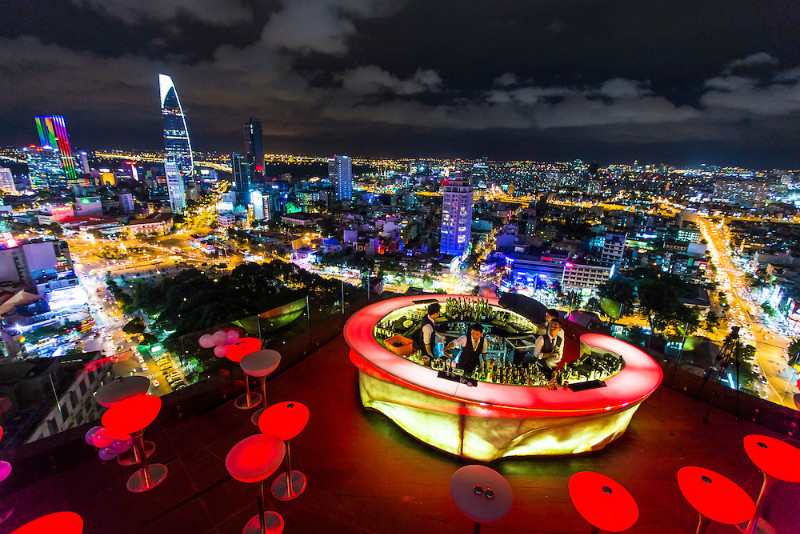 Another way to still be in the city's Christmas festivities in absence of hiding from the chaos is to take a seat at one of the Saigon's rooftop bars and slowly watch everything underneath you. From the one and only Chill skybar with its amazing panoramic view to The View on Bui Vien.
Take me to church
The Notre Dame Cathedral in District 1 is the iconic place in Saigon. Designed like the Notre Dame Church in Paris, the one in Saigon cater to its Christian congregation. And the church is also a symbol of peace and harmony between religions and skin colors in Saigon.
#3 In Hoi An
Originally a fishing village and an important port in Southeast Asia, Hoi An architecture influences come from China, Japan and France. It is a breathtaking landscape on the riverside of Thu Bon river gives it the ambience of a small Venice. Thanks to its peaceful air and ideal location, the town has become the favorite spot of many excursions and tours visiting Vietnam.
You can enjoy the gastronomy and the local cuisine, ride a bicycle around or even have your own unique tailor-made clothes by one of the many skillful tailors in the town. The best time to stay there is when the Lantern Festival occurs and have a voice inside your head singing:
"This one's for you and me, living out our dreams
We're all right where we should be
With my arms out wide I open my eyes
And now all I wanna see
Is a sky full of lighters
A sky full of lighters"
(Lighter – Bruno Mars)
Thanks for reading!
Find yourself a local buddy here: TUBUDD
Instagram: @yourTubudd
Email: [email protected]
Hotline: +84 915155511 – +84 896684588